Scores give Jah Prayzah a Triumphant Welcome
Zimbabwe's top musician Jah Prayzah this afternoon received a triumphant welcome from scores of fans who gathered at the airport.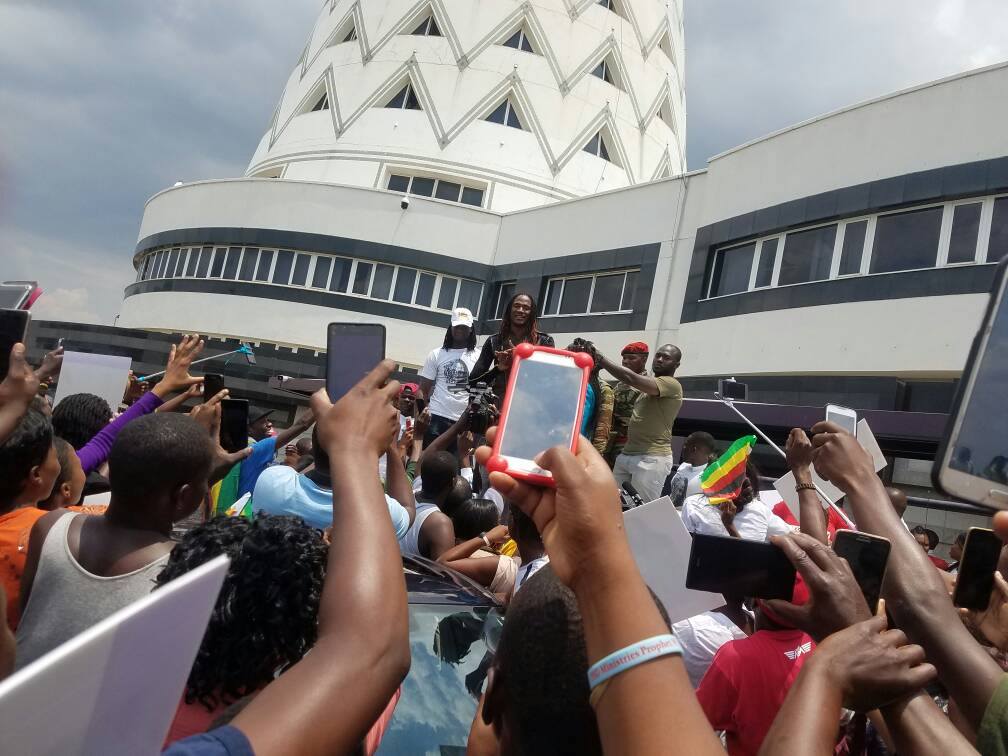 Jah Prayzah who touched down at 1200hrs was in Australian when Zimbabwe Military and the general people led a revolution that resulted in the resignation of President Mugabe.
It was his song Kutonga Kwaro which got a new life and became the soundtrack of Zimbabwe's revolution but the authour of the song was away on business and said he wished he was there with the masses.
Fans of Jah Prayzah gathered at the Joina City around 1030 am where two luxury buses were waiting for them including some private cars.
Along the way it was all jubilance as passersby waved at the buses and the private cars, the bus that this reporter was in had to make several stops on its way to the airport as more and more people hopped in on the joy train.
It was the same for the other bus and various private cars.
Their own hero was returning and the fans wanted to thank him for penning a prophetic song that gave birth to a new Zimbabwe.
Placards with various messages were being waved at the airport, some read 'We Missed You Jah', 'Kutonga Kwaro', 'Welcome MTM General', 'Soja Rinosvika Kure' amongst many, while others decided to have different messages on their t-shirts.
"All my shows in Australia where packed to capacity and Zimbabweans where overjoyed (referring to the military intervention) I have never seen such love," said Jah Prayzah
"I'm happy with the way people have embraced my music and my album Kutonga Kwaro. Releasing such an album was not an easy task especially coming on the backdrop of a successful album like Mudhara Vachauya."
He also said there was never a time he missed home more than the past week, especially after seeing what was happening home on the internet.
Jah Prayzah said when he wrote Kutonga Kwaro for him it was just music and he had no idea how people would receive the song.
"When you write a song you just write as an artist without any premonition of people's expectations and how it would speak to their lives," he said.
However, asked about how he felt about the President's resignation he decided to be modest about it.
"As a musician, i cant comment on politics, all I can do is focus on my speciality which is making music," he said.
Watch Video Below
Comments
comments