Harare partied and if they had been allowed to continue they still will be parting up to Monday.
So much fun was had.
This was the first Castle Lite show courtesy of Delta and to say it was a success is an understatement..it was a blockbuster.
The two roads leading to the roundabout at the Newlands Shopping centre were closed to allow Hararians to party.
ZiFM's DJ Too Bad warmed up the party when he hosted the Dancehall Empire live on the Castle Lite stage.
Everything was just set for a perfect party; the beer was cold, the lighting, and the sound system.
Among great acts were Tehn Diamond who gave a flawless performance so did Kwekwe's DJ Stavo, Rax the DJ,Pee-Kay,Jason Leroux threw some Electro dance Music after midnight,Judgement Yard never disappointed as usual.
Here's what we learnt:
1. People are in need of innovative ways of having fun.
It doesn't have to be another Jamaican artist or some over-priced American artist to give people a good time.
This was an open air show right in the middle of the road and people turned up in their hoards just to have drinks and listen to music. This is something Delta need to continue doing and perhaps consider doing it in other parts of the country.
2. Alcohol and order can co-exist.    Litres and litres of alcohol were swallowed on Saturday, delta made sure it was convenient to every pocket to down the holy waters. But here is the cool thing; even with more alcohol in their blood the crowd remained mature, orderly and violent free.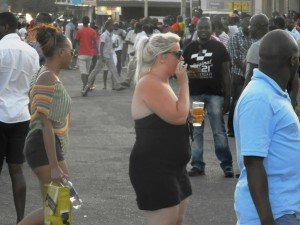 3. It's possible to have a street party and avoid litter.    My biggest concern with this street party was the litter it was going to leave in the streets. But I was impressed by the delta staff who were roaming inside the dancing crowds picking up little bits of litter, bottles, cans, plastic jars you name it. This they did from the time the first bottle of beer was opened and that was around mid afternoon. Litter was contained to minimum levels.
4. Next time you throw a party get J Boss and Captain Awesome to host it.   These two Djs kept the crowds entertained all night. Their chemistry on stage was just a marvel to watch as they hosted the show. For successive hours all they did was hype up the crowd and made sure the agenda of the night was strictly adhered to – which was to party!!! If you are throwing a party soon get these mavens to host it.
5. The city is endowed with beautiful sisters.   OK this we didn't necessarily learn on Saturday but the mention is worth the repeat.  
Share Your Comments