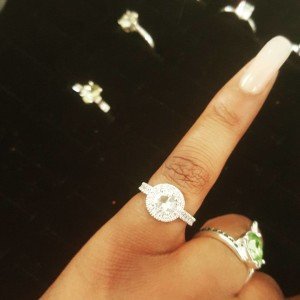 So Itai got naughty and posted this image on both her facebook and instagram accounts.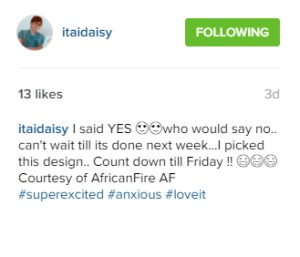 The Star FM news presenter triggered an avalanche of questions in our heads, who is the lucky guy who just scooped one of Radio's beautiful faces and voices?
Of course that is an index finger with that beautiful rock ..but hold on.. the other finger has a ring too…Itai come one now!!!!?
After dodging questions from her facebook friends to confirm whether she been engaged or not, Zimbuzz decided to give her a call last night to ease the tension off some guy out there who is still deciding on his strategy and the conversation went something like this:
Zimbuzz: Hello Itai its Michael from Zimbuzz, you posted what appear to be an engagement ring on your instagram account, are you engaged sha?
Itai: No I'm not.
And that was the end of the conversation in just 39 seconds.
So as far as we know Itai Mutinhiri is still single y'all. NB: Single here refers to not married
Here is the face (and body) that accompanies that soothing voice you hear on Star FM news.
Share Your Comments