He was staring history in the face, his challenge was to prove to all doubters that indeed he is the star that the country has been waiting for.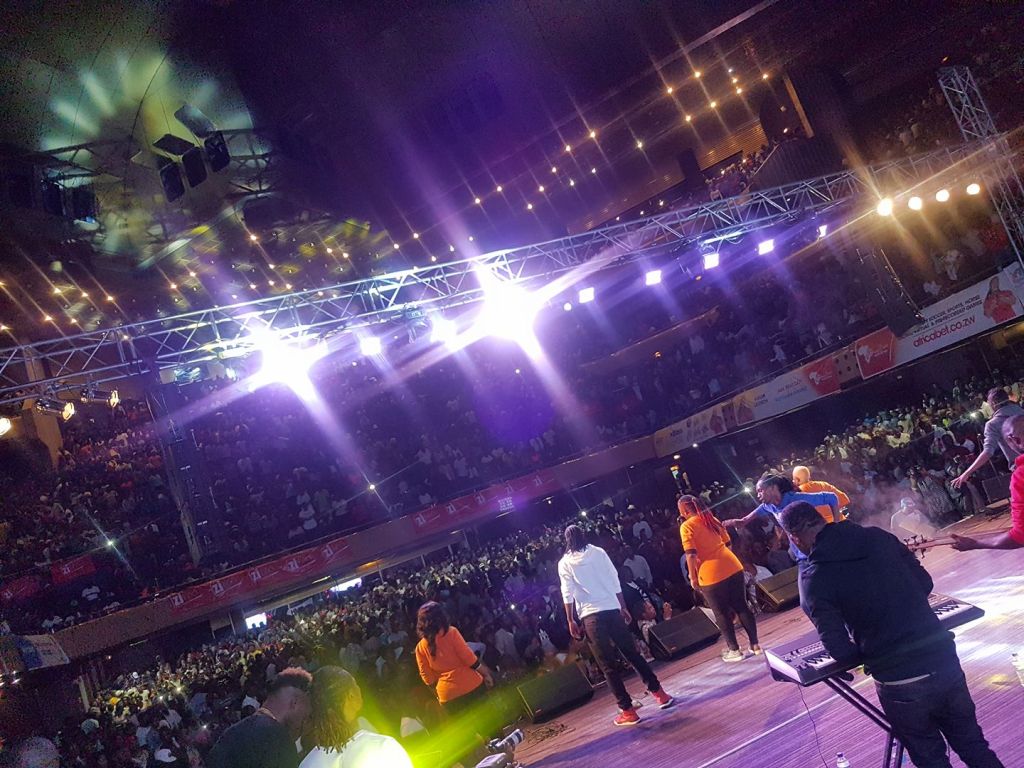 Things could simply have turned disastrous, Jah Prayzah could have easily sung for a half-full auditorium, at least those were the sentiments from social media critics.
The source of the disaster, they say, was Davido's failure to come to the show as has been advertised, a situation which 2kings Entertainment dealt with swiftly.
But fate had other plans – locals stood by their star and the HICC was teeming with people.
Jah Prayzah filled up the venue to the brim, proving to all and sundry that he currently is our biggest musical treasure and our new export.
Of course, they are others who would argue that the addition of Winky D and Oliver Mtukudzi to the show boosted the numbers, truth be told, the album Kutonga Kwaro was the pulling factor.
The Show as it happened
The show was hosted by ZiFM's Miss Becky, Newsbae, Dual Sim, Ruvhi who were exchanging duties.
At around 2230hrs musician Mbeu took to the stage and performed two songs with a live band before him BaShupi had also done a short performance.
At this stage, the HICC was at least 3/4 full but people were stilling trickling in with others struggling to secure parking.
Bustop TV's Gonyeti who was tasked with introducing the Guest of Honour performed her stand up comedy and had people in stitches.
After giving a performance of her life a fortnight ago at the Shoko Festival, the stage at Kutonga Kwaro launch was big, and so was her confidence. Incredible.
Guest of Honour Sir Wicknel
Although people resisted him at first, they then warmed up to him and at times cheering and laughing at his jokes.
Sir Wicknel then became the first person to buy a copy of Kutonga Kwaro album, and he did so for 10 000 in hard cash, which was wrapped in papers.
Before he handed the money he ordered that Jah Prayzah's wife come onto the stage. Mrs Mukombe obliged, and just like the wife of a superstar, she was glittering with glamour.
The audience was then given the honour of watching two of Jah Prayzah's unreleased videos, Chengetedza and Nziyo Yerudo featuring Yemi Alade
ExQ and Nutty O
The two came onto the stage at around 2333hrs, by then the HICC was fully packed. Nutty O performed Bugatti and then ExQ joined him for their collaboration Lets talk about it.
ExQ then took over the set with his talk of the town male dancers, he did Bhachura and Jerusalema.
Jah makes first stage appearance
At exactly 2350 the main attraction Jah Prayzah went on stage and performed One new song and sampled the first stanza of Chengetedza.
He exited the stage at 0012 leaving the DJ playing music as Tuku's band was setting up.
The programming of artists and the show's intermittency almost threatened to water down the excitement.
Dr Tuku then came on stage and livened up the fans.
Andy Muridzo
When it comes to his performance, Andy Muridzo is still miles away from being a star that people think he is.
For the vocal talents that he possesses and the lukewarm performances he delivers, Andy is a classic case of a wasted talent.
The same can be said about singer/rapper Takura, despite having so many number one hits, his live act is very boring.
His stage presence vis-a-vis his talents invokes boredom and an induced visit to the restrooms.
Yes, he has hit songs, but to compare him to Jah Prayzah is mischievous. He needs to polish his act.
And a Suprise artist from across the border
And then out of nowhere, at 0126am there was Zambian star Mampi of Walilowelela fame, she did the hit song with the sing-along Zimbabwe fans
Jah Prayzah's Second performance
Star attraction, Jah Prayzah returned at to the stage at around 0130hrs and gave his all, Despite Davido's non-availability, he sang My Lily and the crowd helped him too. It was beautiful.
The only disappointment was that he did not perform many tracks from the new album, preferring that people buy the album.
After dishing out songs like Goto, Seke Mutema, Gochi Gochi, Hossana and others, it was time for him and his Third Generation Band to call it a day, by then the time was around 0230am.
The partying responsibility was then handed over to Winky D who was the closing act.
2Kings Entertainment Magic
The 2 Kings Entertainment duo of Tich Mharadze and Dee Nosh has now successfully filled up the HICC more times than any promoter in recent times.
Roping in Tuku and Winky at the 11th hour as well as slashing ticket prices for the show proved to be a well-thought move as the HICC was packed.
And that Mampi suprise!!!!
It is our hope that they managed to recover part of the 90 000 they had paid for Davido's performance.
Conclusion
A star is born, Believe it, celebrate it, Own it, Brag about It – Jah Prayzah Simply the best
Share Your Comments