The Style Concierge fashion show on this Saturday
Four designers are scheduled to showcase their all-new exclusive collections at The Style Concierge fashion show which will take place on November 4, at The Flame, Harare Drive corner Portglen Rd, Harare.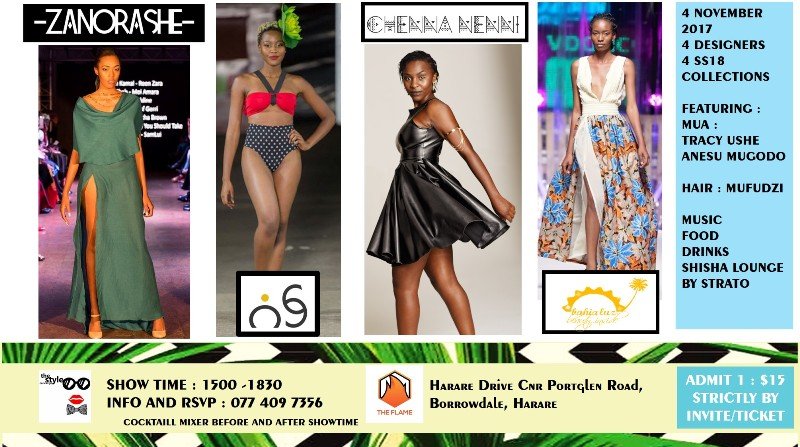 The Style Concierge is a fashion and lifestyle collective aimed at providing the market with a holistic experience through fashion lifestyle brands.
It is a collaboration of four amazing African designers, currently comprised of three Zimbabweans and one Rwandese designer.
The Aim
To create an alternative Afropolitan fashion culture through innovative design and foster sustainable development through being globally competitive.
To be creative, innovative and to aim for product excellence and to continuously strive to be the best.
The Style Concierge helps clients develop their personal style through offering of full range of products.
The Style Concierge SS18 will feature 3 Zimbabwean designers Tatenda Chantelle Mahachi of Zanorashe showcasing a full women's collection themed Esoteric, Ngoni Brian Motsi of Chenna Nenni showcasing a men's collection themed Homemade Dynamite.
Nompumelelo Marilyn Samambgwa of NoeeS showcasing a women's swimwear and resort collection themed Double Canvas and a Rwandan Fashion designer Shadia Essen of Bahia Luz showcasing an African print collection themed Summer in Harare.
The Style Concierge has taken upon the task to produce the show notwithstanding the country's economic challenges which have led to the continuous collapse of the clothing and textile industry.
In an effort to foster local fashion retail; delegates, merchandisers and influential celebrities have been invited to the affair.
Tickets will be available on the door at $15. The doors open at 3:00 with a pre-cocktail party running through to 16.15 when the first designer showcases.
Additional information Contact: Nompumelelo Marilyn Samambgwa on +263772218007/+263718818007 or TatendaMahachi on +263778256384
Comments
comments