Fans wishing to watch the much anticipated Tarrus Riley show for a bargain have been accorded a chance to do so through the purchase of an advance ticket.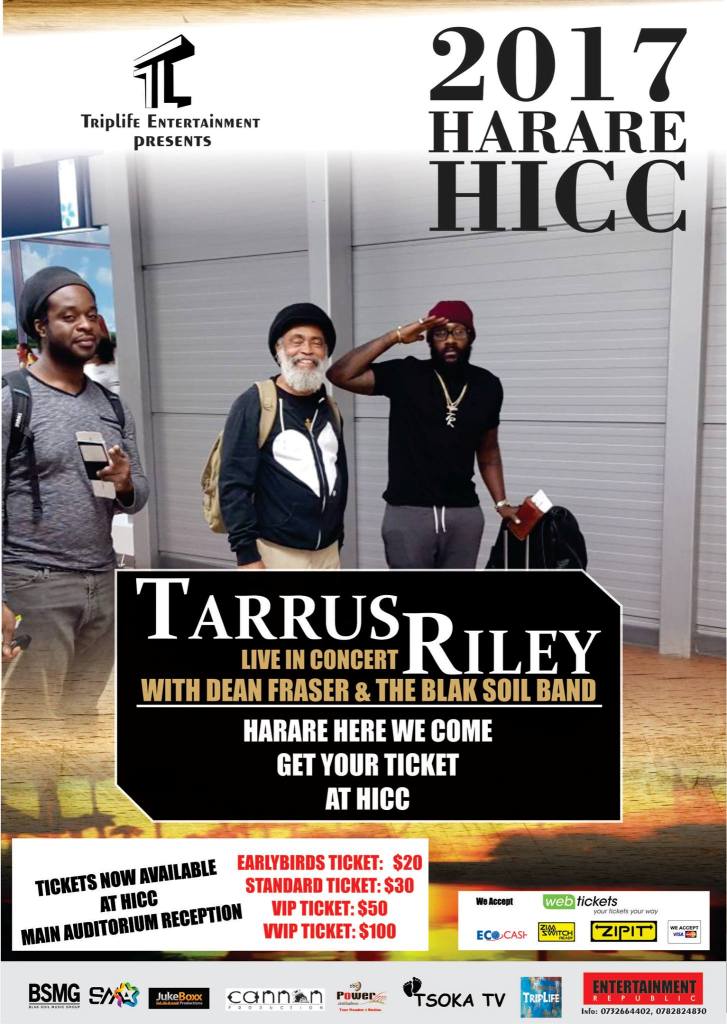 With the general entry ticket pegged at $30, those who opt for the advance ticket will pay $20, in what the organisers have termed 'early bird tickets'
Tickets have already gone on sale at the HICC Main Auditorium reception. Riley will be performing Saturday 28 October at the Harare International Conference Centre
Payment methods being accepted include Visa/MasterCard, Ecocash, ZipIt Transfer and Zimswitch, For those using the Ecocash Mobile money, a merchant code has been provided – 124239.
Other tickets have been pegged at $50 for VIP and $100 for VVIP.
Tickets are also available on the Webtickets Website on this link
With a stellar line up that includes Zimbabwe's current biggest star Jah Prayzah who has recently launched his album Kutonga Kwaro, Award-winning Jamaican saxophonist Dean Fraser and the Blak Soil Band, music lovers are in for a good treat.
Local acts set to perform include Soul Jah Love, Seh Calaz, DJ Templeman, Gary Tight and Killer T.
For such a lineup and considering the prevailing economic environment and the risk that the promoters take, $30 dollars entry seem like a fair price to charge.
Jah Prayzah's stock has taken a sharp rise since the release of his album and by his standards, watching Jah Prayzah alone will cost something in the region of $15.
Meanwhile, Tarrus Riley and his band have departed for Zimbabwe and are expected in the country this afternoon.

Share Your Comments