It is such a huge weight to carry the hopes of a generation on your shoulders one that looks up to you for spiritual guidance through your musical prowess.
Such is the expectation that Killer T had when he stepped into an overly packed 1+1 Club at LongChen Plaza.
Since his announcement of the launch of the New album – Mashoko Anopfuura, for a whole period of time the conversations on the streets of social media and Zimbabwe changed to one subject – Killer T.
Indeed these young ghetto chanters have become the prophets of our time, whether, by design or divine calling, the dancehall boys have bent the world to their inspiration.
And so they gathered at the club for the crowning of a Prince and the heavens agreed and decided to open its womb and drop some showers – showers of blessing for the Ceremony.
Inside the club was probably a combined net worth running into millions as the likes of Ginimbi, Boss Albert, Tinashe Mutarisi (Nash Paints), Mahwindo, former Warriors Captain Benjani Mwaruwari and many other rich boys of Harare descended to the launch.
Even Hip Hop was represented, The likes of Tehn Diamond and Stunner who also gave a magical performance bore witness to the occasion.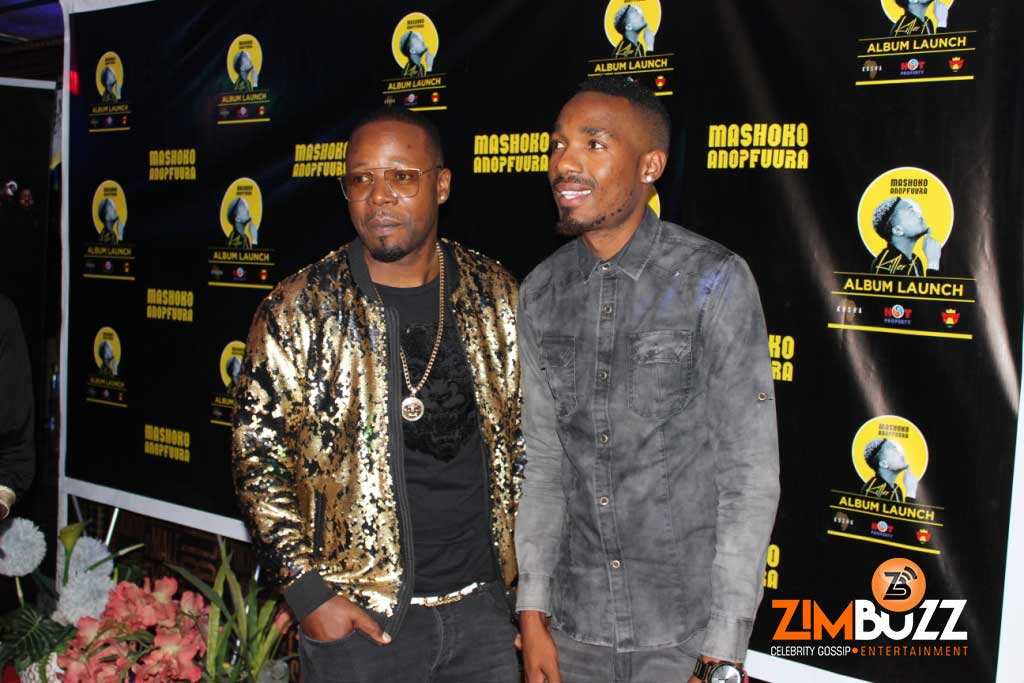 Celebrities such as ZiFM's Misred, Cindy Munyavi, Carlos Green amongst others, added the glitz to the VVIP Section which was also graced by Minister Kazembe Kazembe.
To have the brand power to summon such heavyweights for an album launch, there should be something special about you.
You need to have royal blood running through your veins, and for Killer T this was the first time the star had such a gathering inside one room.
Ginimbi called for a challenge to the stage for anyone who could outbid him. And there were no takers.
At this point Benjani had pledged to buy the CD for $2000 before Boss Albert outbid him and put $5000, the former Manchester City striker then upped his bid to $10 000.
As the money tussles went on, the boys returned to their VVIP seating.
Mahwindo took a microphone with her and as soon as the crew settled, she started announcing figures that shocked the fans and the thousands watching from various facebook live streams
She said as the Liquor Boys Ginimbi will be buying the Album for a cool $US 50 000. And with that, the hammer dropped.
Probably Killer T and his management underestimated their brand power as the venue proved to be too small, as by 12 midnight there were still queues of people paying their way into the venue.
Killer T must have realised how much a big artist he is because his live performance has improved immensely, he looked energetic and determined to prove that this was his crowning moment.
You see, there exists a vacancy in the Big Five, the places are occupied by Jah Prayzah, Winky D and Oliver Mtukudzi and maybe Alick Macheso.
Could Killer T stake his claim among the big boys? This album will tell.
Midway into his performance, Nash Paints Boss, Tinashe Mutarisi nicodemously breached the security barricade and started dropping new, crispy clean US dollar notes on Killer T.
There were in various multiples, of tens and fifties.
We were not able to count how much Mutarisi was splashing but all we saw was that the notes rained on Killer T's ginger hair until it literally turned green with the dollars.
And with those acts, we witnessed the crowning of a prince – A dancehall Prince.
Share Your Comments