Trevor Dongo on Friday morning landed himself in a social media snake-pit after he had had a rant towards Mudiwa who had innocently accepted an award on his behalf.
His fans had no kind words for the soulful singer, saying his behaviour was both immature and embarrassing.
So what really happened?
After the ZIMA presenters had announced Trevor Dongo as the winner of the Best R'nB/Soul/Afro Pop, Mudiwa, after noticing that no one was actually present to receive the award, took it upon himself to do the honour.
However, Mudiwa, in his acceptance speech on Dongo's behalf said that he had received a text/app message to get the award.
Upon hearing the news, Dongo who according to Mudiwa was in Canada went on a series of rants targeted at his 'friend.'
In another tweet, which he later deleted, he mocked Mudiwa.. see the tweet below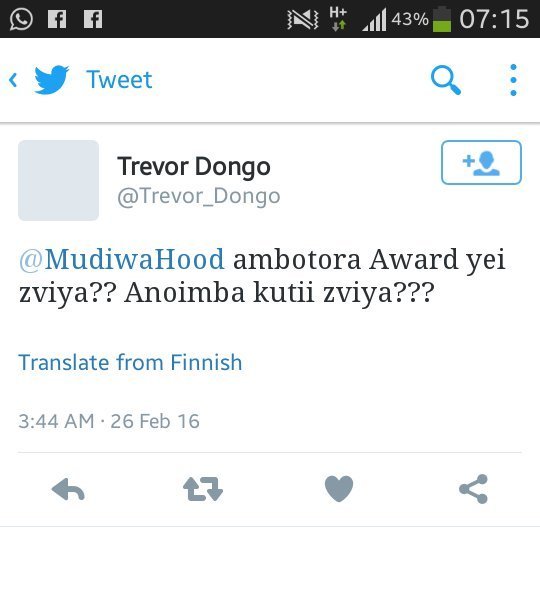 However his fans turned on him and demanded that he apologise to the rapper who in fact, had saved him from embarrassment since no one had stood to accept the Award.
In another deleted facebook post he wrote: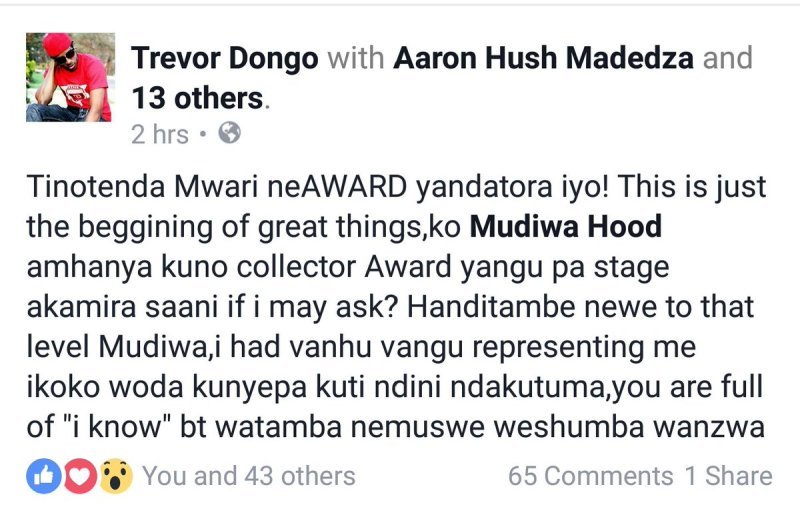 After bowing to pressure and insults from his fans, Trevor then posted an apology but that wasn't enough to extinguish the fury as it was dismissed by people as insincere.
Also, Mudiwa upon realising his mistake went on to apologise to Trevor Dongo for his 'wrong did'
Again in another deleted post he wrote:
But did Mudiwa really receive a text from Trevor?
When contacted by this reporter Mudiwa declined to comment on the matter, however, a few minutes later he was in a telephone interview on ZiFM Stereo during the Ignition show.
Responding to questions from both MisRed and TK, he said that he felt like his name was being used for publicity but however maintained that "Trevor Dongo is my boy" and "I'm not gonna say anything bad about him."
TK: But wakatumirwa text yacho here iwe?
Mudiwa: (after a brief silence)…Trevor is my boy
TK: Yes or no, you got a text?
Mudiwa: When all Zimbabwe didn't even know he was in Germany………yesterday night Trevor was in Germany….how would i know that.
Mudiwa also said he thought Trevor was under some form of emotional stress since he was going through a difficult time, perhaps with his divorce.
Now see the full list of the ZIMA winners here
Share Your Comments