Organisers of The Pusha Maworks beading workshop which took place last Monday in Hatcliff in association with Beady Africa and Silas Nyamhandu have described the event a resounding success.
This effort is in line with the Pusha Maworks flagship brand dubbed The Community Edition where the organisation seeks to create numerous platforms across Zimbabwe and Southern Africa where skills can be shared and/or transferred between selected individuals excelling at vocational skills-based businesses and members of the communities.
The event kicked off at 10 am with attendants taking time to introduce themselves before the Pusha Maworks team of Diana Elisha Nheera and Byron Kabaira led a conversation on general business principles and what it takes to actually build an income-generating project straight from the communities and plugging into different markets and avenues of business.
The workshop had an emphasis on learning beading and building a business out of it as a way to improve life.
At midday, Silas Nyamhandu took over the floor taking time to tell his story with beading.
He spoke of starting beading as a hobby before he learnt that he could earn decently out of it. Silas spoke of the need for resilience as it took him approximately 10 years before he could see the true light in the beading business.
After having a motivational talk with the attending men and women from Harare's Hatcliffe Extension residential area the facilitator went into practical demonstration teaching some basics of making various beading creations like earrings, wrist pieces, neckpieces, and accessories like key holders.
Mr. Nyamhandu, a man who has also built a business out of conducting beading trainings was unmistakable genius as his dissemination prowess soon manifested in various attendees taking turns to create a few bead pieces according to what they had grasped the most. A successful workshop it was.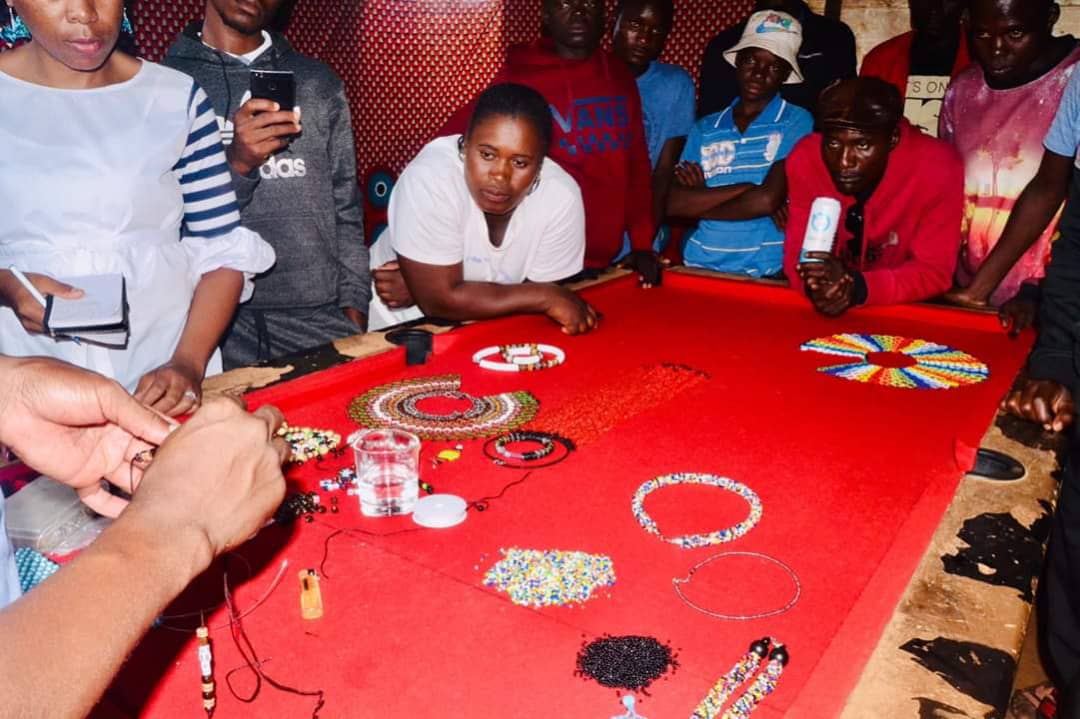 In attendance was also Rudo Orpah who is one of the future facilitators in the Pusha Maworks Community Edition workshops.
She runs a business in making ladies wear, linen and a few unisex garments out of fabric off cuts.
The owner of the venue at Busy Corner, Mr. Boisen Tichadini, applauded the workshop adding that it was such efforts that could emancipate a lot of young people in the communities as many lacked income-generating power which, if not resolved, would result in adverse behavior disrupting community peace.
The facilitator continuously applauded the initiative and took time to urge the attending members to take this opportunity seriously for it had the power to change their lives in so many ways.
Plans are in place to make sure that another workshop is conducted with a more practical approach so as to allow those interested in pursuing beading as a business to commence immediately after the tutorials.
The event was sponsored by Ziminvoice, Diana Elisha Digital, Beady Africa and Pusha Maworks
Share Your Comments