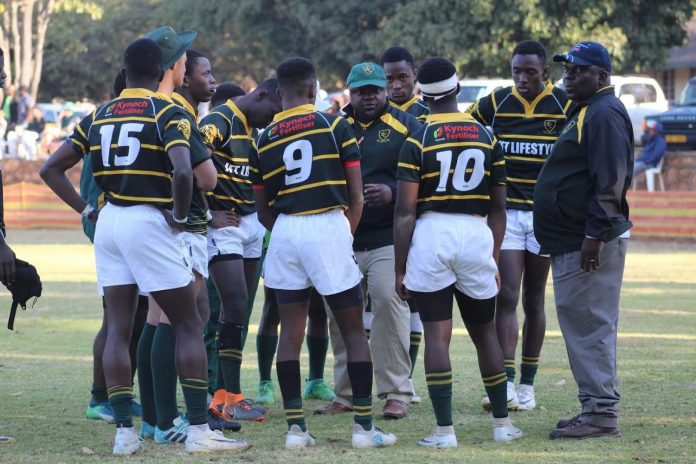 It was a rugby fiesta at St John's College as schools' first team rugby came to life after a 3 year halt due to the Covid-19 pandemic.
The day was characterised by different fortunes as teams were totally dominated with the last two fixtures of the day, Falcon vs Lomagundi and Prince Edward vs St John's College, living up to their top tier billing.
In the first match of the day, Gateway College was thrashed 58-0 by Hillcrest in a one sided affair.
Eaglesvale were not a match for Bulawayo based Christian Brothers College with the final score line being 12-5 in favour of CBC.
Watershed and Heritage played to a 12 all draw before a new look Churchill High School dismantled Wise Owl 50-0.
In what was probably the match of the day, Bob Mahari's Lomagundi narrowly beat Falcon College by a point in a 22 – 21 thriller.
Falcon head coach, Dereck Chiwara took the defeat with grace and was proud of his team.
Said Chiwara: "What we saw today was a good game of rugby from Falcon and Lomagundi boys. It clearly shows rugby is alive and good to go.
Considering the boys last played rugby in Form 3, they have suddenly been thrown into the deep-end and credit to them. The game was physical and was also exciting to see some running rugby. The boys definitely put up a good show across the board.
Yes they are lots of areas that did not go according to plan, it was clearly an issue of being rusty. Decision making was poor in certain situations, but that will obviously get better. The foundation was set and credit to both teams."
Lomagundi coach Farai Bob Mahari had this to say:
"We feel that technically it was a poor game but it was great for theater and drama.
It was old fashioned school boy Rugby. With a lot of heart and moments of brilliance. Ultimately Rugby was the winner!"
In last match of the day, the host school St John's College got the better of long time rivals Prince Edward. The Rams won 17 – 12 leaving Prince Edward a try away from levelling terms.
Prince Edward coach, Shaun De Souza was happy with his team's performance despite the loss.
He said, "Today's game was a great show of character the Tigers did very well considering we only had the opportunity have two training sessions based on the timing of Ordinary level results coming out.
Days ago and lower six intake process. It was the first game and boys were bound to make mistakes. We defended well in the first half and then started playing a bit late credit to St. John's College for a good win unfortunately we don't get to play them during the season which is sad."
More rugby action will be there on Wednesday with second teams competing while first team action returns on Saturday.
Share Your Comments