Resplendent with her two-piece blue sequin set with long sleeve blazer and a self-tie combined with high waist pants as she traversed the oval-shaped stage, Janet Manyowa was equally at home in her debut Bulawayo Show.
The packed audience at Saturday night's Wanqoba Concert at The ZITF hall 3 made it special singing along to any tune in her catalogue.
There was a palpable glow in the room as she took us deep into the realms of worship during the audio and visual recording of her new album Father's House.
Every concert happening now feels like a miracle following the tough 2 year period we went through, but other shows are different. Choosing your debut performance to record your latest album calls for more.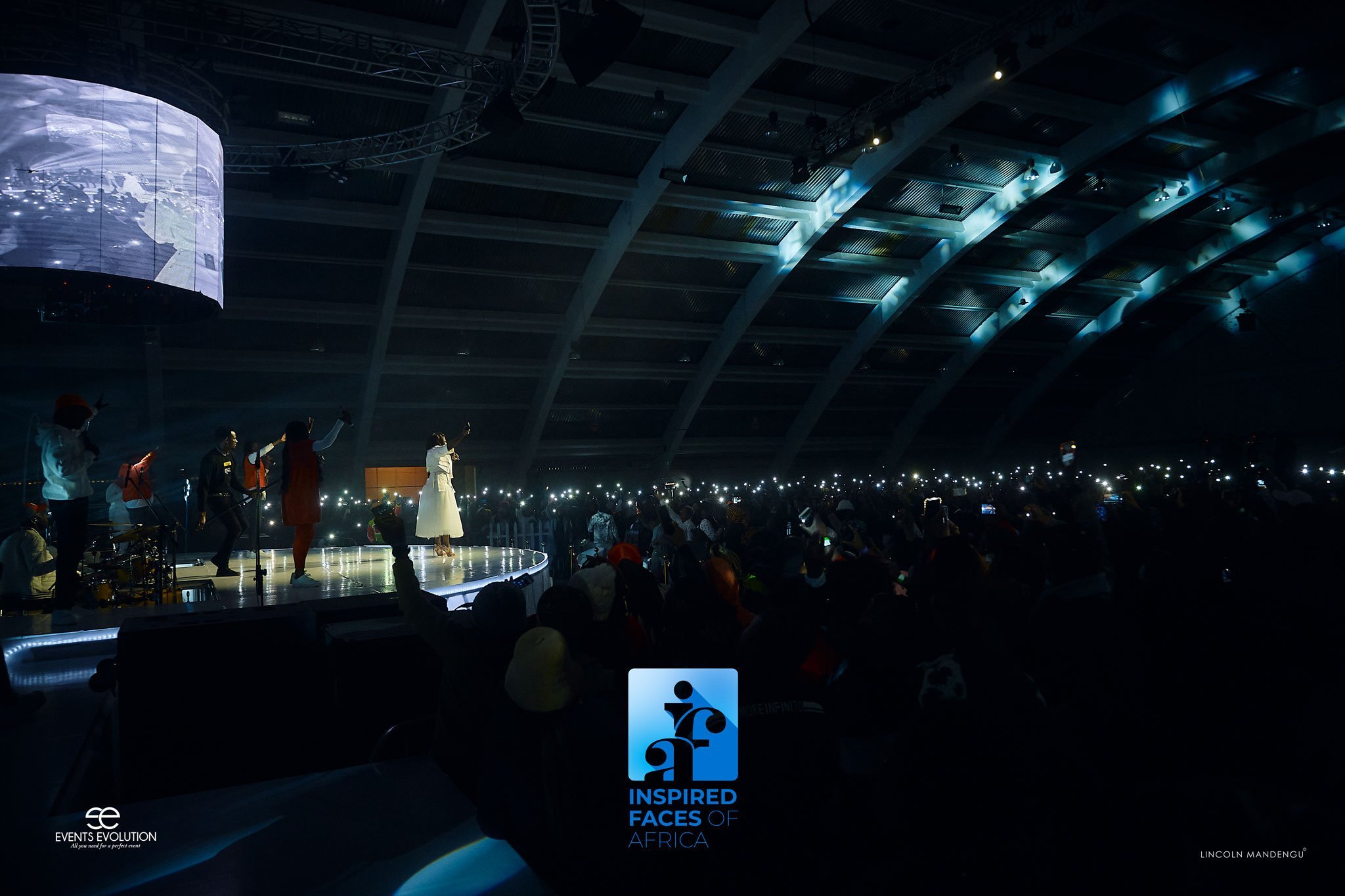 After Harvest House Music choir had closed their performance with the all-time favourite hymn 'Ndinoshamiswa Kwazvo' the atmosphere was ripe for another level of intimacy with the creator.
Janet Manyowa's band and backing vocalist descended on the stage in double-breasted suits, in varying shades of grey, blue and green before she joined them on stage.
One of the most amazing moments was when she was joined by international poet Albert Nyathi as the two performed the album title track 'In My Father's House'
The combination of the two mediums – music and poetry naturally flowed as Janet Manyowa and Albert Nyathi took turns to express themselves to God in their different art forms.
On her new album one song in particular quickly stuck on people's hearts and within a brief moment was already a singalong, it contained the lyrics 'Shoko renyu' in the chorus and this may be a runaway hit.
Off the new album is another track titled 'Dry bones' taken off Ezekiel 37, The prophetic scripture put into a song was performed with such conviction and passion and sent the house into prayer.
'Blessed be your name' is a collaboration she did with her leader, Pastor Bonnie Deuschle.
"I'm particularly honoured today because I get to sing with my Pastor," she said as she introduced Pastor Bonnie to a thunderous reception.
Other songs she performed included Shandurai and Bayethe before she took a break from her first set.
Contemporary singer Pastor G took to the stage before South African songstress Ntokozo Mbambo brought the house down with her powerful and piercing vocals on the crowd favourite 'When I remember'
Janet then returned for her second set churning out her previous hits which have made her a household name not only in gospel circles but the music industry as a whole.
She was then joined mid-performance for a guest appearance by Minister Michael Mahendere who did the classic 'Makanaka Jesu'
Takesure Zama then capped off what is probably Bulawayo's biggest gospel show which boasted of a blockbuster lineup which also included Wenyasha, Snowy, Mai Mwamuka, Nomthie Sibisi and Vocal Ex.
Share Your Comments