Organisers of the Rick Ross Zimbabwe concert, Roar Entertainment have issued a ticket scam alert following the set-up of a fraudulent website.
The website which runs an Instagram account has set up an Event on Eventbrite an American event management and ticketing website service that allows users to browse, create, and promote local events.
Rick Ross is scheduled to perform in Zimbabwe at the Harare International Conference Center on Friday, November 18, 2022.
Ms Shally told Zimbuzz that the purported tickets doing the rounds were fake as they are yet to release official ticket information.
"We are going to release our tickets information officially on our social media handles, website as well as bonafide media organisations," Ms Shally told Zimbuzz.
"We urge people to be on the lookout for these scams as they have become rampant on social media."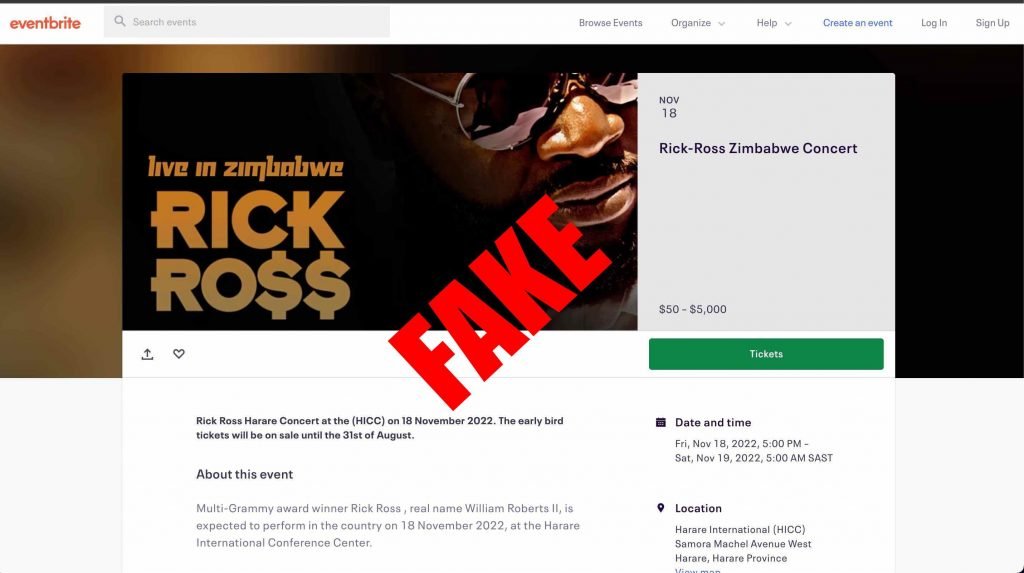 Instagram has become part of many people's daily lives as they use it to communicate and engage with their friends and family.
There are also many businesses and influencers who use the platform to make money.
But Instagram is not all happy videos and photos, showing off your new outfit, or boasting where you are out eating dinner with your friend.
Unfortunately, the popularity of the platform makes it an ideal place for cybercriminals to operate large-scale scams.
This scamming has worsened over the past year, with the BBC claiming in January 2021 that Instagram fraud reports have increased by 50% since the coronavirus outbreak began in 2020.
In May this year, a group of Liverpool fans were conned out of £19,000 by scammers selling fake Champions League final tickets online.
Share Your Comments