For his maiden appearance in Zimbabwe, American rapper Rick Ross needed only 50 minutes to deliver an unforgettable performance last night at the HICC.
The glamorous aesthetics of his set were complimented by a frenzied crowd that passionately sang along to a wealthy catalogue threading hit after hit.
But that is something everyone would have easily anticipated from a multi-award-winning international superstar.
However, the emerging conversation is a tale of a long bittersweet night out in the capital.
The show was billed to kick-off at 1700hrs with curtain-raising red-carpet performances by local artists. However, there was a delay probably to allow as many revellers into the giant arena.
The MTV Base branded red carpet did justice to the VIP ticket holders. Emphasis on the red-carpet stage as it will assist in the unravelling of a discourse that this review holds in massive regard.
This stage is where a number of local hip-hop artists were assigned. Hillzy warmed that stage to an energetic crowd that assured him of their love for his new EP which dropped on the same day.
Saint Floew took the chance to put a face on Silas Mavende as the song continues its run for song of the year contention. The Fourty Gang (Kikky Badass and Crooger) were out to prove their class amidst social media heat following their lashing out at this year's Zim Hip Hop Awards.
Simultaneously, the main stage roared into life. DJ King Her unfolded her genius on the decks as fans settled around 9pm.
At this point in time, the line-up schedule was just a conspiracy theory. Notable is DJ Rimo teaming up with legendary emcee Etherton Bennie to add a vegan dish to the menu.
The routine would turn the concert into a club frenzy as MCs Cut, Tatts and Abisha exchanged the mic until midnight.
It was however well executed sets with tiny doses of local music, something which we heartily despise as an industry aspiration – promotion of local content.
As the clock hugged midnight, the HICC swelled to almost full capacity and patience became a scarce commodity with fans expressing their frustration and organizers were swift to respond.
They unveiled Rick Ross as the opening act. The Boss invaded the stage with salutations for Zimbabwe as a loving people. His set testified global stardom.
The connected crowd cheered the Big Boss chorally chanting 'Roo-zay' after every song.  Scott Sakupwanya was invited on stage and Ross rounded his large frame with the 'scarf'. The theatrics rounded off the main act of the night.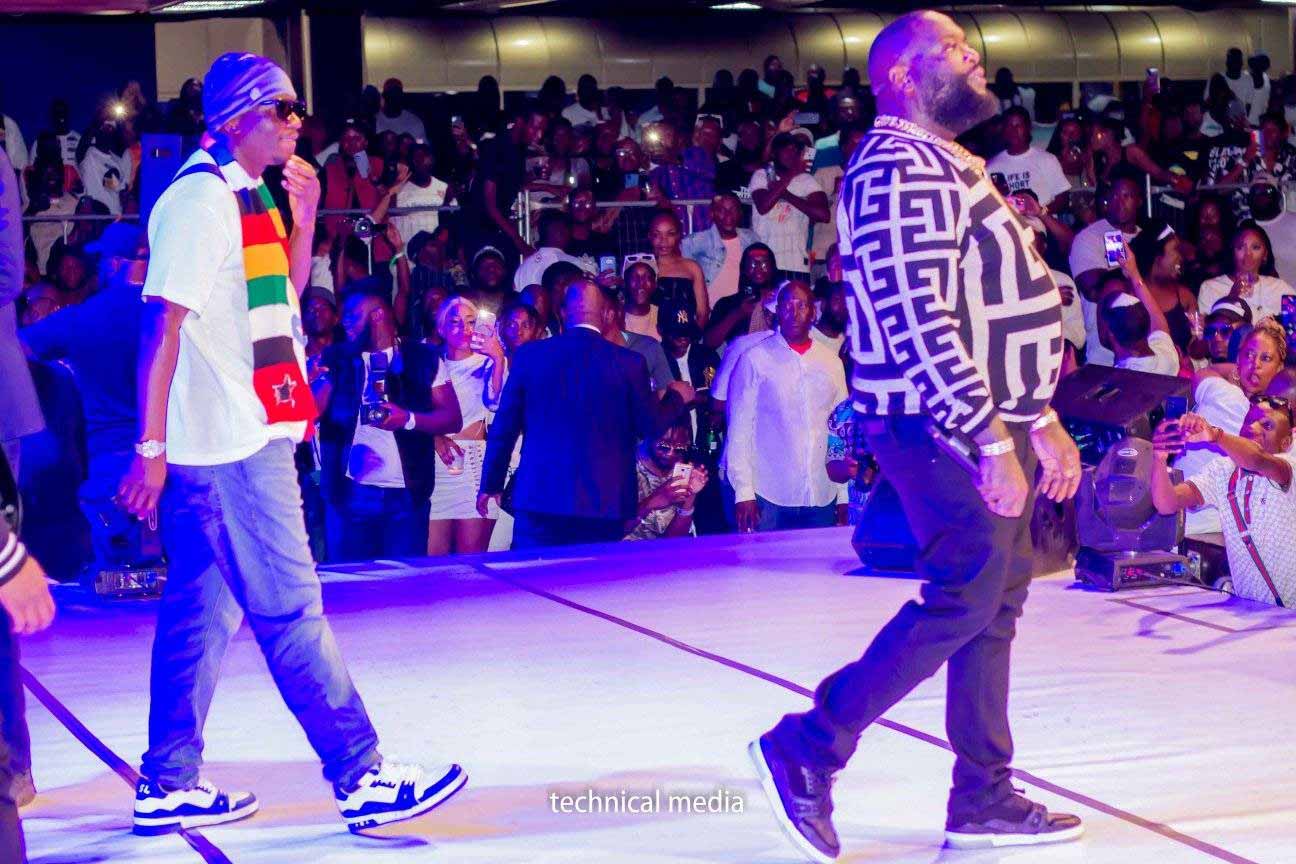 Enzo Ishall was the surprise act of the night. The ZimDancehall artist is currently flying high with the 'serial hit maker' tag and this night was another chance to effortlessly do this music thing.
He indicated that Nasty C was the next performer. The young rapper from South Africa took to the stage cool, calm and gravy!
Nasty C is familiar with the Zimbabwean turf hence his delivery was simple but polished. He made way for late addition DJ Maphorisa who made sure Amapiano remains a favourite and fast-growing genre across the continent.
Holy Ten and Takura capped the night despite the emptying seats in the wee hours of a Saturday morning.
Billed to be the main opening act for Rick Ross, Nutty O's chance was blown away as the artist failed to perform.
His management has issued a statement saying among other things; Their balance was not paid up by their official stated time of performance, his team were not granted access tags nor access to the event before and during the event and that they were denied a performance slot on the stage.
ROAR entertainment is yet to issue a statement or respond to Nutty O's management
The Rick Ross show by ROAR Entertainment has so far received a fair share of negative and positive criticism pointing to the way it was organized.
For a show that Zimbabweans wanted as a chance for the local hip-hop industry, to prove their mettle, it left a sour taste. This is a night where local rappers could have been afforded a chance to showcase the art which has been buzzing all year.
It was a beautifully crafted show that however pierced our patriotic and revolutionary local hip-hop hearts.
Share Your Comments