[sociallocker][/sociallocker]
Could Ammara Brown and John Cole's Kiss be the end of Morales in Zim Films and Videos?
One of the most dependable things about Zimbabwe's Film and video industry is that you are guaranteed a "Clean" movie, no overt and offensive dressing , no sexual innuendoes that make you blush, No Sex scenes that make you answer the Remote.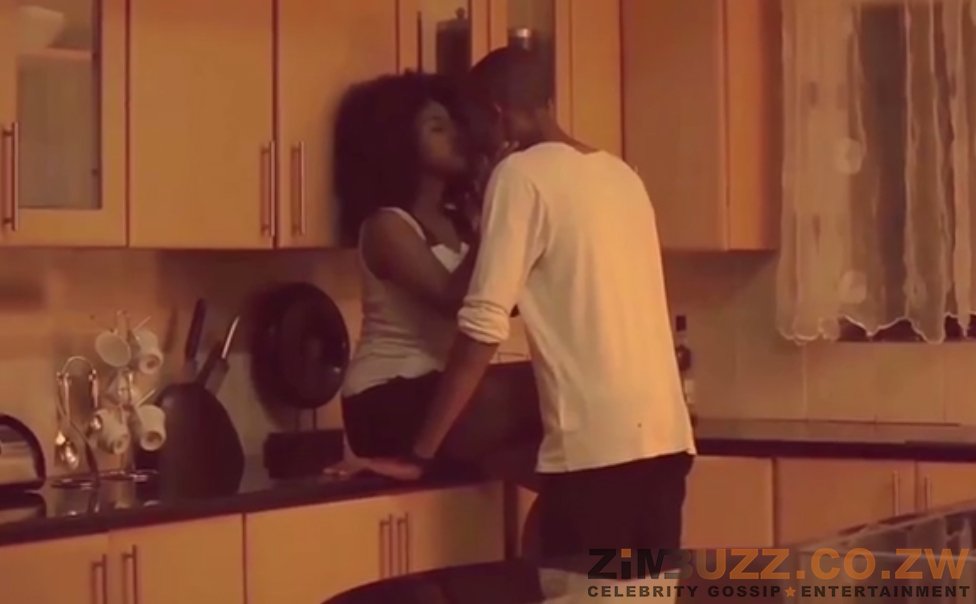 Just good Old Entertainment and then Came that Tom Mbambo and Bev Kiss that nearly knocked the teeth out of Grandmothers Mouth.
The resulting uproar by Studio 263 fans might have caused all these other series, movie and video producers wary of Kissing scenes and then that movie Escape came out , and it has it all , Kissing and sex and everything in between and suddenly directors and actors got more daring with their intimacy scenes on screen.
These steamy-Cant- watch-with-your-mum-in- the-room Kisses seem to be here to stay and the latest to join the hall of Zim kisses is John Cole and Ammara Brown.
These two have had a long relationship, on and off screen that is Ammara does the singing and John Cole puts the dancing visuals to the golden chords…Case in point Mukoko and Havarare.
So them jumping into Acting together does not seem to be a very long leap.
The small trailer ( OR teaser I never know which is which) posted on John Coles Instagram page shows a very cozy scene of Ammara sitting on a kitchen counter with Mr Cole right in front of her and they seem to be talking about something they really don't want found out and when Ammara soothes Mr Cole about whatever it is they want done( Murder ? Drugs? FOMO got me bad) They lean in into the kiss .
Now you can tell that they have done this before (NO NO NO Come back) cause the kiss is flawless and it must have taken a thousand takes to get that lip battle on point.
The Camera work was a bit sloppy cause we didn't get the perfect angle we used to in other movies, lights were dim and the sound was something else BUT it's a good start and we can't wait to see these two multi-talented people get it on ( Again Come back) in this acting business.
Now, of course, we asked around about this kissing trend and people have mixed feelings, some think that as Zimbabweans we have been desensitised by First World media and we are headed towards the immoral path and it will only be reinforced through our own media.
One particular man *Name withheld cause well* thought that as a community we are already in trouble with sex tapes and nudes and our movies didn't need add fuel to fire by exposing children and youth to such practices.
The other bunch of "sexually liberated" woke people simply agreed that ART is an imitation of Life and if artists are curbed with cultural norms and not what is on the ground as a society then we will never know the SIGNS and SYMPTOMS of our social ills.
Of course, they did not say it quite as eloquently we sort of summarised it for you. As Zimbuzz we just want the première date and detail of this Movie and the tickets.
What do you think about Kissing and sex scenes in Zimbabwean Movies??
Watch the teaser below
Share Your Comments