It was the gathering of the most fashionable people you will ever see in the same room as the Modelling family put their best fashion foot forward at the Zimbabwe Models Awards last Saturday.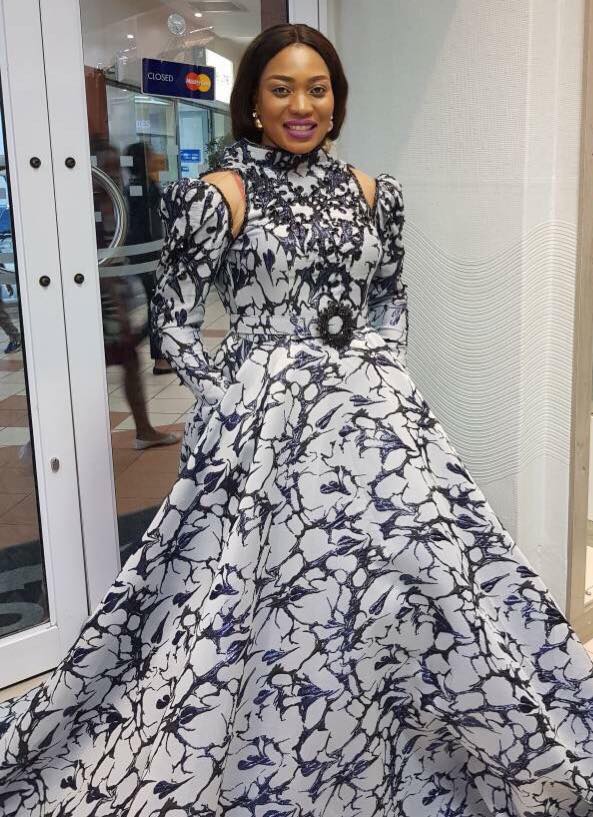 The event which was held at Pablo'z Club & VIP at Sam Levy's Village in Harare honoured various models from across the country and beyond as well as rewarding those that have contributed to the development of the industry.
The night's headliner may have been the honours given at the Zim Modells Awards, yet everyone's eyes were on the red carpet to see who wore what to the big night.
Mudziyashe Lodge was sponsoring the award for the best-dressed guest and the attendees donned some stunning fabrics and judging such an event is as difficult a job a horse commentary.
But there had to be a winner and it was the gracious Sibusisiwe Dube popularly known as Busi.
Dressed by Posh, her dress might look simple at first glance, but its beauty is all in the details especially the long-sleeved turtleneck.
It was its long train that caught our attention the moment she announced her presence up the Pabloz stairs.
Busi's gown literally filled up the room as it was all you could see with the embellishment of the dress loud enough to silence all the others who all but looked stunning as well.
Models from different categories also walked away with accolades for the achievements they have made in 2017, amongst the winners was our Zimbuzz Editor, Michael Shoko who received an award for excellence in journalism supporting the modelling industry.
Below are the winners
Male Model of the Year
Jefferson Muserera
Female Model of the Year
Hilda Mabu
People`s Choice Awards
Male: SHADEL NOBEL (2223VOTES)
RUNNER UP: WELSHMAN SIBANDA(1413)
Female: TINOTENDA KACHINGWE(853)
RUNNER UP: HILLARY MAKAYA(686)
1. Munashe Marukutira (17) Outstanding
2. TALIA CHONYERA (11YRS) Outstanding
1. Top Model Zimbabwe (Modeling Agency)
3. AM Model Management (Bulawayo
4. Miss Zimbabwe
Female Most Promising
1. HILLARY MAKAYA
Male Most Promising
1. JONATHAN MURRAY
Female Most Photogenic
1. KUDAKWASHE CHABAIWA
Male Most Photogenic
1. FISHER J MASANGO
Female Best Fashion
1. SHARON TACHI
Male Best Fashion
1. SIMBA JAMES
Female Best Runway
1. TATENDA R MANUNGO
Male Best Runway
1. SHADEL NOBLE
Female Best Promotional
1. SARAH LINDSAY
Male Best Promotional
1. ARTHUR C. EVANS
Female Most Talented
1. MARY MUNDEYA
Male Most Talented
1. BYRON MULINGA
Female Best Fitness
1. SHIRLEY SPREETH
Male Best Fitness
1. MICHAEL LEVENDALE
Female Best Sports
1. PRIMROSE SERIMA
Male Best Sports
1.CORESH DUMBA
Female Best Visual
1. NANCY DZVITI
Male Best Visual
1. JEFFERSON MUSERERA
Female Most Educated
1. SINDISO NDLOVU
Male Most Educated
1. TAFADZWA PADARE
Female Best Entrepreneur
1. VALERIE G CHIGONZO
Male Best Entrepreneur
1. BRIGHTON MUDIRIREI
Yummy Mummy
1. SHELLY POPE
Female Best Mature
1. CHANTELLE MANUEL
Male Best Mature
1. BRIGHTON MUDIRIREI
Female Best Petite
1. SIKHULILE SHUMBA
Best Plus Size
1. HAYLEY ANN CARSTENS
Most Curvy
1. AMANDA MUSONZA
Female Best Commercial
1. HILDA MABU
Male Best Commercial
1. ADONIS NCUBE
Female Best Pageant
1. HILDA MABU
Male Best Pageant
1. JOHN PENDEKWA
Male Best MC
1. JEFFERSON MUSERERA
Best Voice Over
1. ARTHUR C. EVANS
Best Trendsetter
1. TIMOTHY HOGO
Female Best Twins
1. LIPPIE AND LINDA NDAGURWA
Male Best Twins
1. BRANDEN AND BRENTON MURIMI
Female Best International
1. YOLLANDA CHIMBARAMI
Male Best International
1. ARNOLD MHANDE
Most Beautiful
1. NIKITA LEVENDALE
Most Handsome
1. BERNARD NDLOVU
Female Outstanding Charity Project
1. CHIEDZA MHOSVA
Male Outstanding Charity Project
1. MARVIN MUKUYU
SPECIAL AWARDS
1. 4 May Clothing
2. Amara Brown (Artist)
3. Bachelors Republic BR (Clothing)
4. Beverly Mathison(Scouting Agency)
5. Big Time Strategic Group
6. Black Opal (Cosmetics)
7. Casa Studios (Photo Studio)
8. Chenna Nenni (Fashion Designer)
9. Denzel Alpha (Photography)
10. Edgars Stores (Clothing)
11. Eve-O Designs Yvette Ndaba (Fashion Designer)
12. House of Gentlemen (Clothing)
13. Ishmael Zarguesia (Fashion Designer)
14. Jah Prayzah (Artist)
15. Jan Jam (Clothing)
16. K7 (Fashion Designer)
17. Melgin Tafirenyika (Model)
18. Melissa Tariro Chiri(Deaf Model)
19. Michael Shoko ( Zimbuzz)(Online Newspaper)
20. Miss Zimbabwe Trust
21. Nandi Fashions(Designer)
22. Noe`es (Designer)
23. Optimas (Photographer)
24. Petreace (Fashion Designer)
25. Phillip Marufu Armur Bespoke (Fashion Designer)
26. Posh (Clothing)
27. Rishi Verma (Model)
28. Sibusisiwe Dube (Model Mentor and Best Dressed)
29. Size 4 Modeling Agency (Long Service Award)
30. Tafadzwa Zimoyo (Herald)(Journalist)
31. Tapfumanei Munenge CoCo (Fashion Designer)
32. Tapiwa Rubaya (263 Africa TV)(Online Blogger)
33. Tariro Zinyemba (H-Metro)(Journalist)
34. The late Sharon Muguwu (Daily News)(Jounalist)
35. Thembani Mubochwa(Fashion Designer)
36. TNash(Photography)
37. Tsitsi Ndabambi ( Zimbojam)(Journalist)
38. Vootography(Photography)
39. Winston Antonio (Newsday)(Journalist)
40. Zimbabwe Tourism Authority
41. Neil Truter (Model)
Share Your Comments