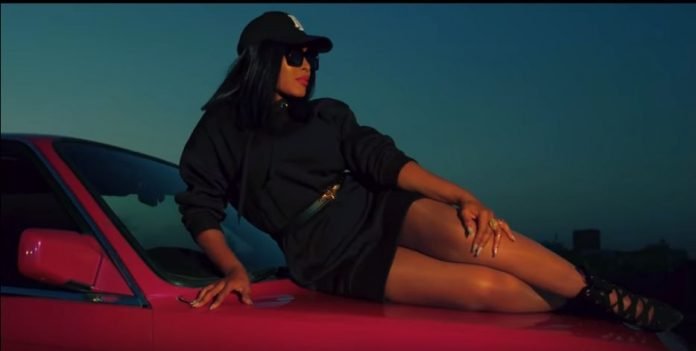 There is something about cars and babes.
The two have always competed for man's attention ever since we got confused by the meaning of the word sexy.
Some say a car is the second hottest thing after a woman.
This video doesn't even attempt to solve that debate as the two, compete to outshine each other inside 4 minutes.
Rachel j who is a business woman, does music for fun really, might have delivered the song of the summer with her track 'Makwikwi.'
She combines mystery and seductiveness, portraying an alluring woman, a boss who is off limits.
Her choice in using her personalised Range Rover Autobiography potrays royalty, after all the RR is from the United Kingdoms of Europe.
The later part which features a gusheshe, shows how much of a daredevil Rachel J is, the entire time the car is circling around her in full speed.
That scene should have come with a warning.
It's one scene that will make the Formula One junkies want to strap a helmet on and hit the course!
The art is nice, the graphic style is unique and the song itself is great.
Produced by Oskid, and directed by Simba G the song takes us back to that second golden era of Kenako Music.
Its evident through out the production how Oskid summoned the creativity that made him a star producer he is.
Rachel's voice smoothly intertwines with beat on every transition, it has this effect though of leaving you wanting me,sort of 'musical blueballs'
Her voice alone is enough to make anyone with a pulse want to (you can finish off this line using your holy creativity)
This House/pop inspired song (Makwikwi) has a lovely melody laced with nostalgic lyrics that reminds you of those first love magic.
Let's talk about the male Dancers for a minute
Often the men in music videos are overshadowed by the many glamorous ladies, but on this one the boys turned up!
The male dancers in Makwikwi are grinding aplenty up to the last scene of the video, where that guys mushed it up with a mixture of Zhakata/Michael Jackson swag.
The trio takes it for us. It had every female in the office hypnotised by the guys' liquid hips (yes we said liquid)
They all want to dance like them – and boy are they practicing.
We safely declare that with Makwikwi, Rachel J has served us with the ultimate summer jam.
You don't agree, Watch it below
Share Your Comments