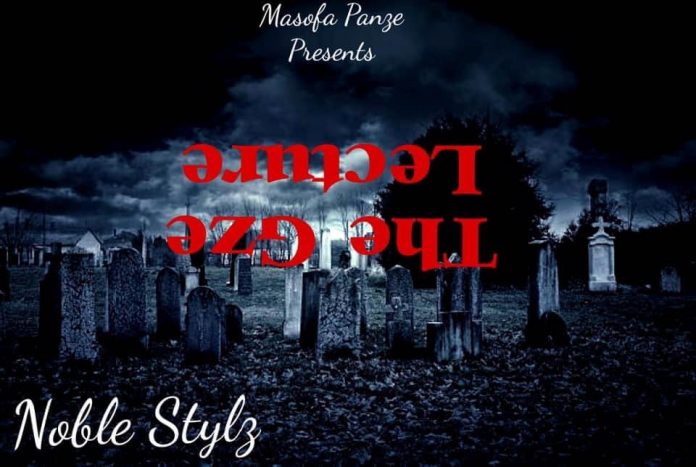 Zim Hip Hop has taken over our timelines and its the most talked about genre at the moment.
It all started with the One House Battle that featured Noble Stylze and Ti Gonzi, the two brought Hip Hop to the conversation table and it was when Noble was still topical that GZE delivered his Fatality diss.
Hip Hop talk then went into overdrive even those who wouldn't normally give hip hop half an ear were drawn to the genre.
Papa as Noble is known plugged out a page from The Art of War by disguising that BlacPerl was to deliver the reply.
But in an ingenious way flipped the script on Tuesday by announcing that he was the one delivering the lecture, resembled by the fliped text on the cover design.
The Lecture is nourished with punch lines 'Iyi haisi song iPartenity test – Noble Stylz went for blood in his first line declaring that he is the Father, the Head.
The dominant theme in the Gze Lecture is Age and gatekeeping. Noble Stylz has wittingly attacked Gze whilst at the same time standing for the young emcees.
'Hatiteere chembere dzine zvitupa zvesimb/ old failed rappers itai maBusiness muite ana Ginimbi' 
The interpretation here is that GZE should stop scavenging for glory against youngsters who are coming up but should instead focus on business to support upcoming talent.
There has been talk for long that some old heads in hip hop don't want to see the young blood flourishing and Noble makes that apparent
Papa continues to claim that he is the battle rap King– ndikati battle vanoti no. The second theme awards.
Zim Hip Hop awards have actually reeked more havoc, ironically, than they should have supposedly propelled the culture to greater heights.
Gze astonishingly exposed how the panel ripped off Asaph hip hop song of the year.
Noble Stylze bring to the surface another astonishing revelation 'makanyudza Calvin 8 awards in one night.
In an interview with Chamvary on Power FM this afternoon he explained that Calvin was signed to Begotten Sun and the same was the Judge at the Awards and made sure his artist walked away with no awards.
He further revealed that this was done because the same camp doesn't want to see Two Kings from the same City (Asaph and Calvin) and accused GZE and the Begotten Sun camp of tribalism.
When artists fight blood spills on those who take that opportunity to air their long-overdue frustrations.
Carl Joshua has been implicated and was the casualty of the war, in his defence Noble highlighted that Carl has bullied many personalities in the name of comedy and he had to take one for the culture.
In his creativity Noble Stylz attacked Gze's sexual prowess..'I met your ex ndikamunzwisa yo 6 minute diss song/ Akati 6 minuted GZE chaiye? I never knew he can last that long..'
This seems to be the most popular line because of its hilarious metaphor.
Whatever will happen next, the culture is as its most alive…
PS..The Lecture by Noble Stylze is currently sitting at 4,819 views after 7 hours
GZE's fatality sits at 8,859 views after 4 days
Listen to The GZE lecture below
Share Your Comments